LV800AW-TT Vertical Turning Center for AL Wheel Cutting
The Turning Center LV800AW-TT, designed by Hyundai WIA with years of expertise and the latest technology, is the best performing machine in the AL Wheel automation line.

Aluminum Wheel machining with high speed, high rigidity and productivity
Max. aluminum wheel processing capacity (21.5")
2-turret, high-speed aluminum wheel processing machine
ACC servo motor-based speed control and minimization of shock at shutdown
Optimum machine structure for automation
Basic Features
Powerful Cutting Capability, 22inch AL Wheel Cutting 2 Turret CNC Vertical Turning Center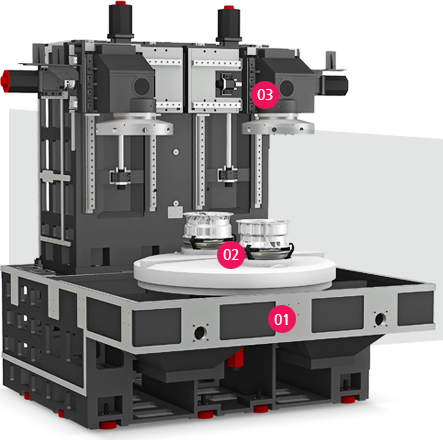 1Bed and Chip Disposal
For smooth chip disposal, the size of chip outlet on the bed is enlarged to 350mm(13.8″) by 856mm(33.7″) and installed with the steep angle of 45 degrees so that it can easily handle a large amount of chips.
Reduction of non-cutting time by fast rapid speed
Rapid Traverse Rate
(X/Z axis)

30

/

30

m/min
(

1,181

/

1,181

ipm)
Travel (X/Z axis)

420

/

650

mm (

16.5″

/

25.6″

)
Max. Wheel Size

22.5″

Max. Turning Dia.

Ø650

(

25.6″

)
Max. Turning Height

350

mm (

13.8″

)