KF5600 Vertical Machining Center
The Vertical Machining Center KF5600, designed by Hyundai WIA with years of expertise and the latest technology, maximizes productivity while maintaining rigidity and accuracy.
Next-generation High-speed Machining Center
Diverse spindle structure (direct-connection: 8K, 12K; built-in: 15K, 20K)
Increases strength through structural analysis
Expands machining domain with y-axis 560mm design
Shortens not-cutting time with rapid feeds (40/40/36m/min.)
Mould packages for optimum mould manufacturing (20K built-in)
Basic Features
High Speed & Productivity Vertical Machining Center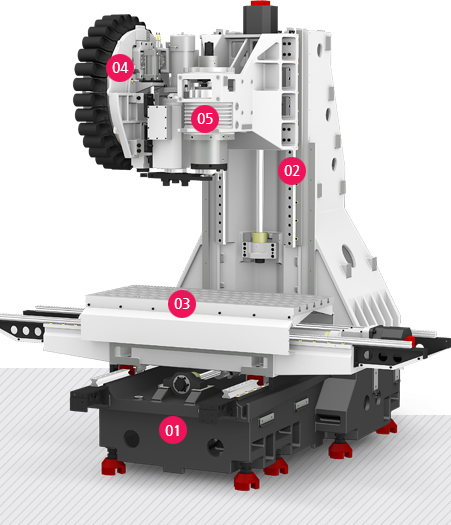 1Optimal Structural Analysis
KF5600 is designed to have optimal structure through Hyundai WIA's unique structural analysis.
Also, column has become more rigid even weight is lighter than the previous model.
KF5600 Rigidity comparison
High-Speed Machining Center
Linear roller guideways are applied to reduce non-cutting time and bring high rigidity. Each axis is directly connected to a highly reliable digital servo motor to provide high rigidity and minimal thermal displacement.
Rapid Traverse Rate (X/Y/Z axis)
40

/

40

/

36

m/min (

1,575

/

1,575

/

1,4176

ipm)
[

15K Built-in :

48

/

48

/

48

m/min (

1,890

/

1,890

/

1,890

ipm)

]
Expanded Y-axis Design
The travel on Y-axis provides enhanced processing with 560mm(22″)
2Roller Type LM Guide
Rating load is increased by 130% than Ball type LM guide
Nut Cooling Ball Screw OPTION
Nut cooling ball screws on all axes(KF5600) decrease thermal displacement which enhance precision of machining ability.
3Table
Compared to competitive machines, the KF5600 has a large work envelop making setup and use easily and providing convenienceto operator.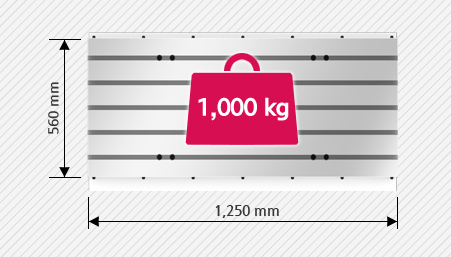 Table Size (X×Y)

1,250

/

560

mm (

49.2″×22″

)
Maximum Load Capacity

1,000

kg (

2,204.6lb

)
4Magazine & ATC
The tool magazine holds 30 tools as standard and 40 tools as an option. Due to the wider selection of tools and the random tool selection method, tool change time has improved.
Servo ATC
Position control of the Twin Arm ATC using Servo Motors has improved drastically. Also improvement of tool changing speed enables reduction of non-cutting time.
Tool Change Time (C-C) : 3.2 sec