XF6300 5-Axis Vertical Machining Center
The Vertical Machining Center XF6300 designed by Hyundai WIA with years of expertise and the latest technology, is made to meet the intense performance requirements of the mold industry.

Cutting-edge High-speed and High-precision 5-axis Machining Center
Increases strength with all-in-one bed & column structure
Machines High-precision parts with x-axis box-in-box structure
Built-in DDM table
Standard 34-tool ring-type ATC (C-C time: 4.5 sec.)
19" LCD monitor
Basic Features
High-Precision & Speed 5-Axis Vertical Machining Center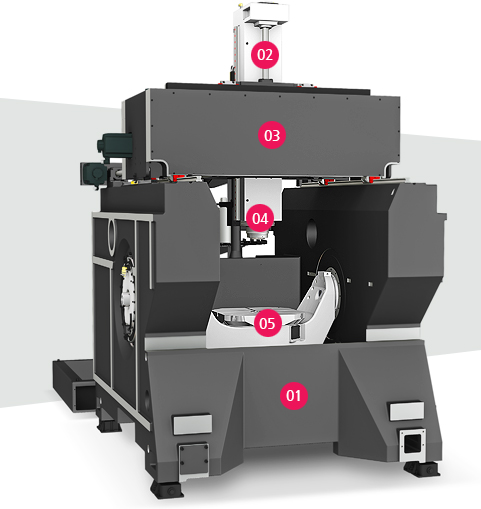 Rapid Feed Rate (X/Y/Z axis)

50/50/50[60/60/60] m/min
(1,969/1,969/1,969 [2,362/2,362/2,362] ipm)

(A/C axis)

70/110 (DDM) [25/50 (GEAR)] rpm

Travel (X/Y/Z/A/C axis)

650/600/500 mm (25.6″/23.6″/19.7″)/150°/360°

Spindle Speed

15,000 r/min

Spindle Output

31/2 kW (41.6/33.5 HP)

Spindle Torque (Max./Cont.)

153/123 N.m (112.8/90.7 lbf.ft)
1Column / Bed All-in-One structure
XF6300 is designed with unified column-bed structure. When compared to separate structure, it has better structural stability. It demonstrates excellent performance in high quality machining with high rigidity and excellent vibration absorption.
(Monoblock Structure)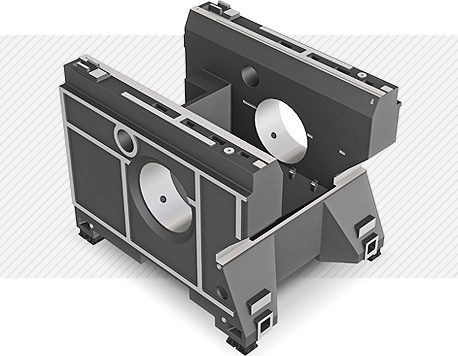 ---
2Symmetric Structure of Z-axis
Vibration and thermal displacement during travel can be minimized by symmetric structure of Z-axis where travel axis is aligned with the weight center of spindle.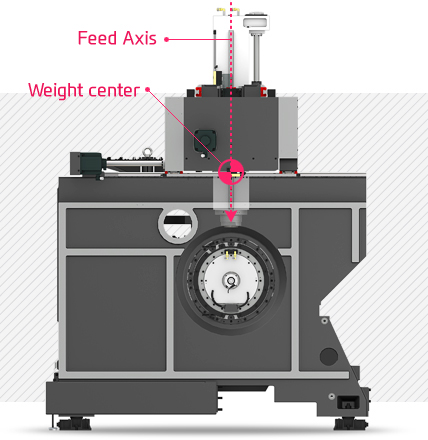 34-Way Structure on X Axis
X-axis of XF6300 has box-type saddle design with 4-way structure in a cross beam to realize improved strength and minimized thermal displacement.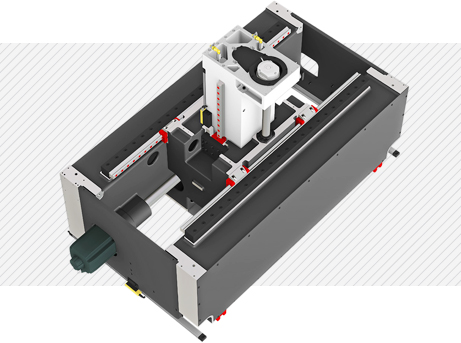 Box-in-Box Structure (X/Z Axis)
The pusher(head body) in the saddle of X-axis, which surrounds the spindle cartridge, is desinged with box-in-box type. This thermal equilibrium structure helps minimize thermal deformation.