L5100LY Heavy-Duty Cutting, Large Work Capacity, CNC Turning Center
The L5100LY, Y-axis CNC turning center designed with HYUNDAI WIA's engineering expertise to maximize productivity by enhancing rigidity and accuracy of machining.

Heavy Duty, Large Capacity, Y-axis CNC Turning Center
Secures superior rigidity by applying wedge type Y-axis
Specialized in heavy cutting by applying 2 Step Gear Box Type Main Spindle (Max. Torque 2,990 N·m)
Secures rigidity with box guideways for each shaft
Max. Turning Length 2,070 mm Long Bed Structure
High-performance Large BMT75 Turret
Y-axis Machining
Secures superior rigidity by applying wedge type Y-axis
1Y-axis Machining
Wedge Type Y-axis Structure
Designed with a compensating Y-axis structure that is fed by the simultaneous operation of the YS-axis and the X-axis, L5100LY features a tool rest of superior rigidity which demonstrates excellent performance for heavy-duty product machining. In particular, off-center machining is available, which is not possible with general lathes, so that high added value products can be manufactured without additional post-processing.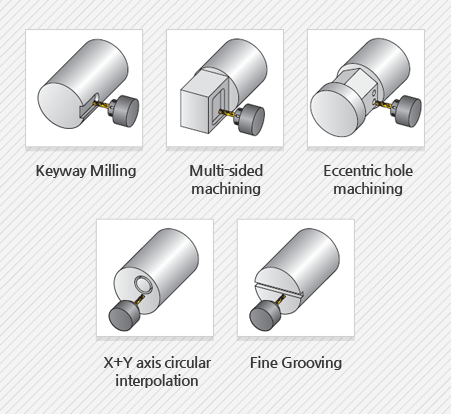 BMT75 Turret
The large 12-station large BMT turret enables the L5100LY to perform high accuracy milling operations in a single setup.
As an option, a 24-angle turret can be applied to increase the tooling range.
12 angles
Rotation of 30 degrees per side
24 angles
Rotation of 15 degrees per side
Increased Tool Rest Rigidity
Unlike other holders, the internal holder features a structure which stabilizes two more shafts along the Z-axis, and rigidity along the Z-axis is increased by 5% compared to the previous model.
Machining Sample