i-CUT400T/M, the Future of Tapping Centers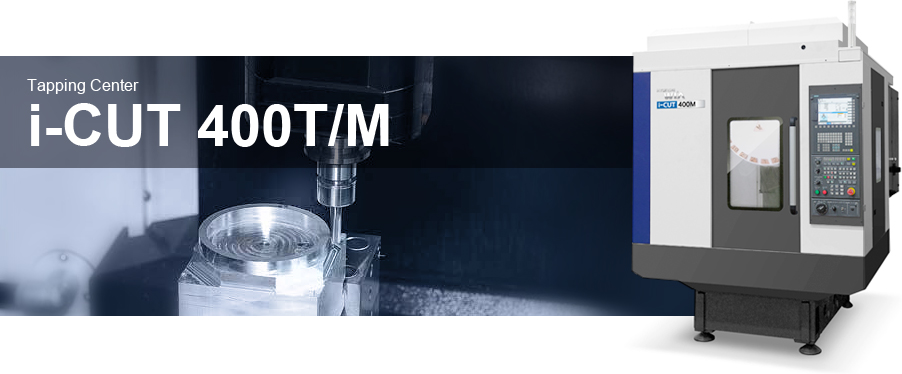 A tapping center that is rigid, quick and light. Hyundai WIA's i-CUT400T/M is designed with latest technology to do exactly that.
Hyundai WIA proudly presents the new tapping center i-CUT400T/M which will provide incomparable experience and satisfaction.
Research Engineer, Daewook Kim , Machine Tool Design Team
Could you tell us about the background of developing i-CUT400T/M?
The cutting edge technology used to produce and design high performance smartphones has been repeatedly developed over the past few years. The demands and expectations of these manufacturers have also been rapidly changing. For example, cases of electronic devices are made of advanced materials which used to be just plastic.
Hyundai WIA is studying this trend, and taking a step further to make an effort in advances to meet the diverse needs of customers at any time. This new project was brought into the world under this movement. Components of IT industry need to be manufactured under very delicate and extreme conditions. There is no other machine that is more suitable to process small IT devices and aluminum parts of motor vehicles than i-CUT400T/M.
What do you remember from developing i-CUT400T/M?
There are a lot of memorable moments since I have been playing a full part in the development of i-CUT400T/M. Over the past last nine years I have designed various products but my passion for i-CUT400T/M is very special and machine itself means a lot to me. The developing process did not go smoothly at first. Compared with existing machine, rpm is significantly increased so the vibration was much greater. We had to put a huge amount of effort to decrease the vibration.
We have spent more than six months making progress in diagnosis and reduction of the vibration. It was common for us to work nights and weekends to deal with the problem. If we decreased the vibration in one part of the machine, a different part became problematic. This was not an easy task since the vibration standards of our company were more demanding than international standards. The machine parts were removed and reattached numerous times. We have studied hard and consulted a lot of people. Not only me but also members of my team and others such as performance improvement team, production team etc. put every effort into this. Through countless trials and errors, we could finally accomplish this task. There were moments where we were so stressed out and wanted to give up but we went through with it. When I think back on the experience, I realize how valuable it was.
What has changed with i-CUT400T/M?
By applying servo motor driven ATC, tool change time (chip to chip) has been greatly decreased. This improves tool positioning accuracy and processing stability. The maximum speed of the direct drive spindle has increased from 15,000 rpm to 24,000 rpm which enables wide range of processing. While still enhancing performance, the weight of the machine is decreased. Through structural analysis, the machine is more rigid and the weight is reduced to 2.2t. It can be installed at place that has weight limit such as flatted factory.