Implements more stable machining, turning center L2600SY

Truning center L2600SY shows excellent performance in terms of transfer of middle/large equipment because record player is installed as box guide type. As vibration transferred from transfer axis can be offset for heavy-duty cutting, machining of high precision product becomes possible. In addition, this machine under my responsibility features mounting of Y axis and plain machining impossible with Y-axis turning center is possible. X-axis and Y-axis machining can be done once, meaning production efficiency is maximized by alleviating inconvenience that a user has to do Y-axis machining by exchanging direction after doing X-axis machining. That is, users can experience stability and efficiency at the same time.
Research Engineer, Kang bongsuk, lathe design team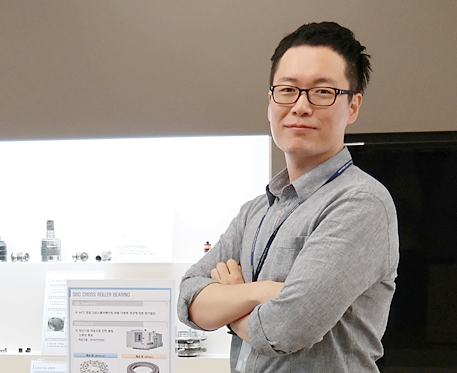 Is there a problem with product development?
I was involved in L2600SY development project when I start at working at this company. Although I was affectionate to it as my first project, there are a lot of problems due to humble experience. I was interested in machine tool from when I was an undergraduate student majored in mechanical engineering, Field practice was quite different from my knowledge. When I went to production site with a drawing, even it was difficult to compare with actual thing and I didn't know where components are put and how to assemble it. So I grappled with machine everyday. Then, seniors taught me kindly and I cleared out lessons learned and studied with major books. Accordingly I grew up as increasingly as L2600SY becomes complete.
You completed L2600SY development. What is next plan
Currently Job is transferred to mass production-related department. Once job transfer is completed, I will be responsible for new project. I need lots of study and thinking with conception design at initial stage of development. I would learn job while asking to people and strengthen fundamental base with sharing information with others. As large-scale technology center is launched in Uiwang research institute, field requests can be transferred more easily and vividly. I think opinions of people who use equipment actually should be reflected in order to create good products. A lot of customers visit Uiwang technology center to tell about what is needed and which point should be corrected. I am thinking and pondering for new project at this place where I can hear valuable opinions of customers.
Which direction Hyundai Wia machine tool should be forward.
Although Hyundai Wia machine tool showing marvelous growth speed has short history, it is grown up to equivalent level comparing to world-class machine tools. In addition, it is provided at an inexpensive cost comparing to competitors. However there is a way to be cleared out. Facility featuring beautiful appearance combined with excellent performance shows off factory environment. So advanced manufacturers starts to focus on design of machine tool. With ambitious 'New Design Project' planning, Hyundai Wia also is trying to keep up with this change. I think that making site line of customers attractive through successive proceeding of this project is kind of our role.