KF7600L High Speed, Wide Range Vertical Machining Center
KF7600L, developed by applying the accumulated know-how and the latest technology of Hyundai WIA, is a next-generation machine tool optimized for processing products with long material lengths through the application of a large and wide table.
Vertical Machining Center with Best-in-class Performance & Wide Machining Area
Large table application for machining long parts
Wide structure of 2,100mm (82.7″) X-axis
High rigidity with Y-axis 4way design
Rapid traverse rate (X/Y/Z) : 30/30/24 m/min
High speed/High rigidity LM guide in all axes
Securing rigidity by applying 3-row ball screw support bearings
2 way interior screw chip conveyor (Std.)
Bed flushing coolant, Upper-type chip conveyor standard application
Basic Features
High Speed & Wide Machining Range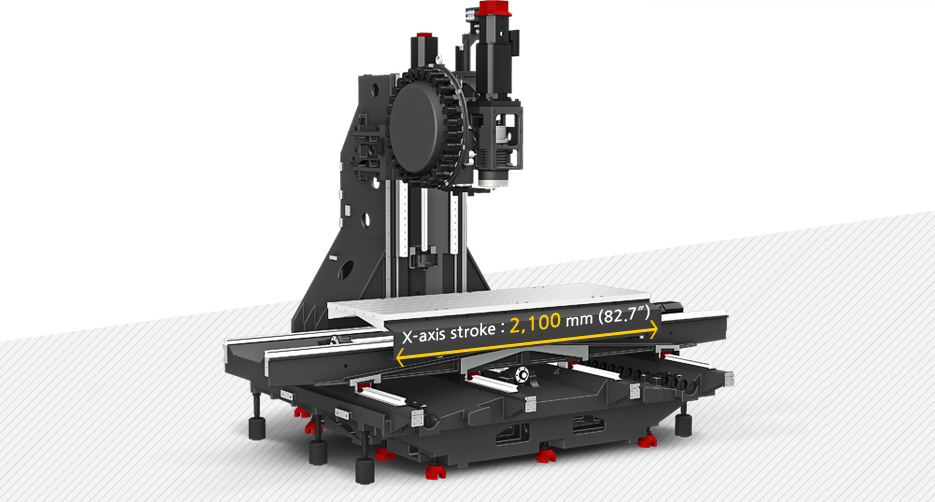 1Wide Machining Area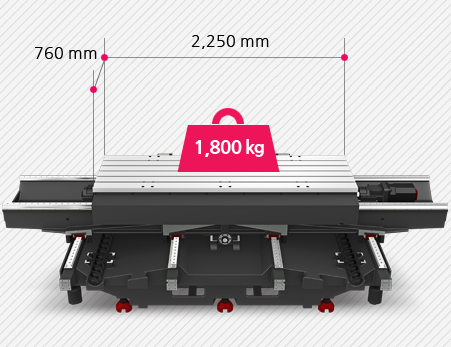 Expanded X-axis Structure
The X-axis feed length is designed to be 2,100mm, ensuring sufficient machining area for long-axis product machining. In particular, by extending the X-axis by more than 600mm compared to the existing equipment of the same class, even products that could not be processed with existing equipment can now be processed.
Large Working Area Table
A large, 2,250×760mm (88.6″×29.9″) table is suitable for large product machining. The table has a maximum load capacity of up to 1,800kg (3,968 lb), which demonstrates its ability to handle heavy-duty tasks.