Hyundia Wia opens up new horizon of machine tool!
Development story of researches for Hyundai Wia who creates more precise world.
Vertical machining center boasting the highest
precision. Says Hi-MOLD6500
Research Engineer, Yang soonsin, M/C design team
Hi-MOLD6500, a vertical machining center for mold machining ambitiously launched by Hyundai Wia, is created with a new concept absolutely different from traditional machine tools manufactured by Hyundai Wia. Hyundai Wia M/C design team started to develop it from completely new viewpoint to create products with best precision and productivity and succeeded to develop Hi-MOLD6500, opening up new horizon of ultraprecision machining.
---
Implements more stable machining, turning center L2600SY
Research Engineer, Kang bongsuk, lathe design team
Truning center L2600SY shows excellent performance in terms of transfer of middle/large equipment because record player is installed as box guide type. As vibration transferred from transfer axis can be offset for heavy-duty cutting, machining of high precision product becomes possible.
---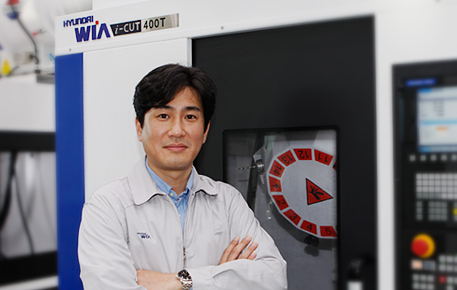 i-CUT400T/M, the Future of Tapping Centers
Research Engineer, Daewook Kim, Machine Tool Design Team
A tapping center that is rigid, quick and light. Hyundai WIA's i-CUT400T/M is designed with latest technology to do exactly that. Hyundai WIA proudly presents the new tapping center i-CUT400T/M which will provide incomparable experience and satisfaction.