Machine tools are the core of the precision machinery industry.
From unique design to production and after-sales service, Hyundai WIA's machine tools are products which provide higher productivity and higher precision.
Since its formation, Hyundai WIA has been steadily accumulating know-how in the precision machine industry. From a position of leadership in its domestic market, the company is spreading its wings to serve the global market.
Turning Centers
Hyundai WIA Machine Tools ensure high productivity and high precision.
Its machine tools and experience take factory automation to the next level.
Hyundai WIA Machine Tools was consolidated and restructured in 2005. From its position of technology and sales leadership in the Korean market, the machine tools division is now spearheading an expansion drive into the global marketplace. Higher productivity and worker convenience are the machine tool design priorities. These machine tools have led the Korean market since 2000. The company has been continuously investing in the development of the newest technology in order to produce first-rate quality products.
Machining Centers
Serving the Korean shipbuilding industry,
Hyundai WIA is focusing on large-scale complex equipment delivering high-speed, high precision solutions.
Hyundai WIA's machining centers have evolved in response to customer demands for machining centers which are capable of simultaneously undertaking multiple processes. Backed by decades of accumulated experience and know-how, Hyundai WIA offers a full line up of machine tools serving the needs of our customers, including the Hyundai-Kia Automotive Group. Second to none, Hyundai WIA's machine tools are synonymous with high-quality and is evolving at a rapid rate with the information technology revolution. The company supplies total solutions to the customer by including custom engineering solutions on any scale to satisfy their needs.
Factory Automation
1Powertrain / Processing & Assembly Line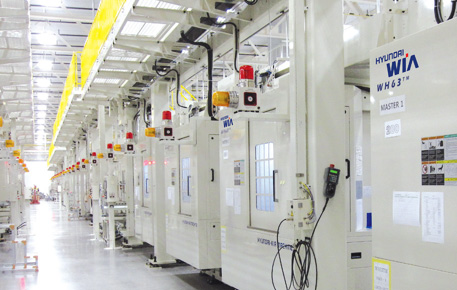 Hyundai WIA is innovative in productivity and efficiency by design and construction of automation systems
for the machining and assembly of automotive components and subassemblies.
Hyundai WIA continued expansion of its factory automation business is based on high performance equipment and a cutting-edge system, along with technology and know-how accumulated by producing machine tools and automobile components. Hyundai WIA's Factory Automation Division has been focused on research and development for the advancement of production line efficiencies to increase productivity and convenience.
2Robot Automation / Body Shop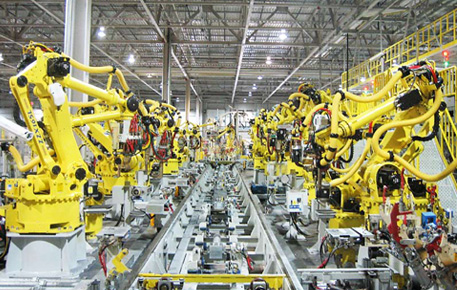 Hyundai WIA supplies automation systems untilized in process and assembly lines in the production of automobile body and powertrain components.
Hyundai WIA contributes to customer productivity improvements by supplying more than 6,000 successful Turn-Key Robot system installations. In addition it supplies body component systems for increased quality and efficient process performance in new car development, and offers a Total Solution ranging from installation to service support. Hyundai WIA's body fixture engineering and manufacturing facilities are renowned for reliability with the highest level of technology and quality which provides its customers the ability to aggressively compete in the global arena.