KF4600/6700 IIHigh Speed & High Productivity Vertical Machining Center
The KF-II Series is a vertical machining center that is a great improvement on the existing KF series, Hyundai Wia's steady seller. By providing high-precision machining through quality improvement of the spindle and customized machining through various spindle line-ups, this product will contribute to maximizing customer productivity.
Most Versatile Vertical Machining Center
High-precision machining by improving spindle quality
Improved user convenience by applying the latest controller of FANUC
Innovative improvement in chip disposal capability by applying the upper type conveyor and bed-flushing device
Various motors and columns provided for customized machining
High-speed roller type LM guide in all axes
Basic Features
High-speed & high-productivity state-of-the-art vertical machining center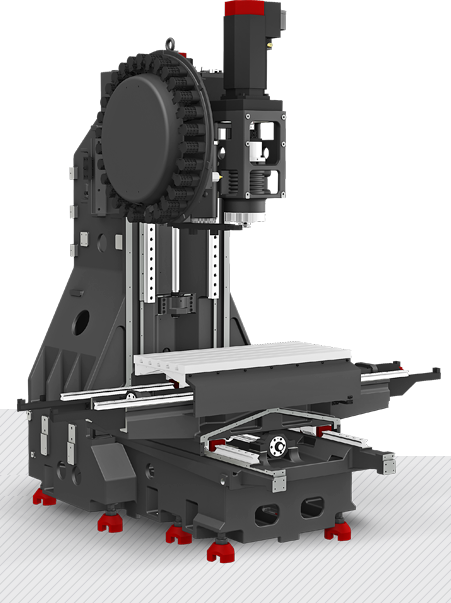 1Spindle Optimized For Machining
The machining tool's spindle is structurally optimized to dramatically improve the spindle vibration and acceleration / deceleration compared to the previous model, providing the best machining quality.
58% reduction in spindle vibration compared to existing models
Spindle acceleration / deceleration increased by 19%
2Integral High Column Option
The height of the Z-axis can be extended when the integral high column provided as an option is applied.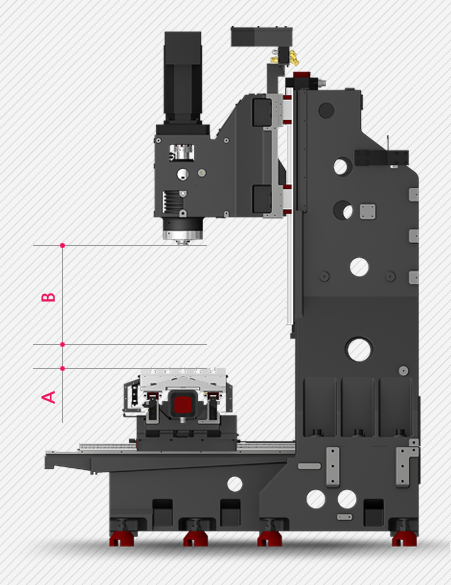 Significantly improved rigidity compared to competitor's block-type high columns
※A~B : From table top to spindle distance
KF4600 II (A~B)
KF4600 II High Column
(A~B)

OPTION

150~670

mm
(5.9″~26.4″)

350~870

m/min
(13.8″~34.3″)
KF6700 II (A~B)
KF6700 II High Column
(A~B)

OPTION

150~785

mm
(5.9″~30.9″)

450~1,085

m/min
(17.7″~42.7″)
3Significantly Improved Ball Screw Stiffness And Longevity
The ball screw stiffness has been increased from the existing model by applying the three-row bearings in all-axis and oil lubrication method, and the lifetime of the Z-axis ball screw has been greatly increased by optimizing the spindle structure and lubrication method.

Increased ball screw stiffness from existing model by147%
Increased the lifetime of Z-axis ball screw from existing model by 576%
KF-II Series Rapid Traverse Speed
Rapid Traverse Speed (X/Y/Z)

36

/

36

/

30

m/min
KF4600 II Travel
Travel (X/Y/Z)

900

/

460

/

520

mm
KF6700 II Travel
Travel (X/Y/Z)

1,300

/

670

/

635

mm
4Breakthrough The Disposal Of Chips Capability Improvement
The upper type chip conveyor is applied as a standard to efficiently remove chips generated during machining. In addition, the 365 liter (KF6700 II) large coolant tank provides a seamless machining environment even with large amounts of coolant.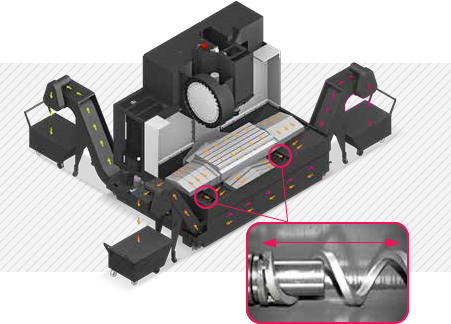 Standard application of upper type chip conveyor

Standard application of upper type chip conveyor
Standard on-board screw chip conveyor application (forward / backward rotation function added)
Bed-flushing coolant is applicable (optional)
Separated an oil-skimmer and coolant tank to keep coolant free of tramp oils.
KF II Series Video