1Increased rigidity by changing the bed structure
In order to prevent decreased rigidity caused by load imbalance from sagging of the turret, and reduced lifetime of the give, LF2600 II Series increased the rigidity and realized high-precision product machining by designing protruded spindle headstock and Z-axis tool post.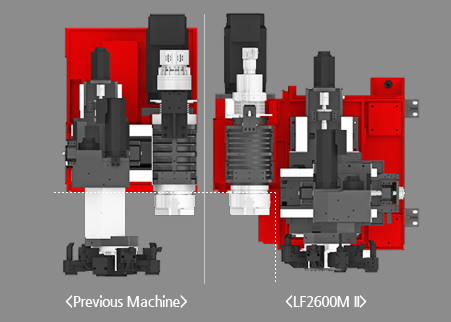 Reduced Protruded Length of Tool Post :
507 mm > 269 mm (238 mm shorter)
2High Precision Structure
Separated Bed Structure
The LF2600 II series is designed as a separated bed structure, minimizing thermal growth and vibration, ensuring stable cutting capability.
Z-axis Structure
Prevent sagging of the turret by reducing the protruded parts of the headstock by changing the structure of the Z-axis, and allow for high-precision machining of the product by increasing rigidity.
< Secure rigidity through shortest possible design of the outer guideway to the spindle >
Get Close to the Spindle of the Cascaded Z-axis and Expand Span > Increased Rigidity
3Roller LM Guide / Box Guide
The transfer axis of LF2600 II Series give options for roller LM guide and box guide to ensure optimum conditions according to machining characteristics. (Standard : Box Guideway)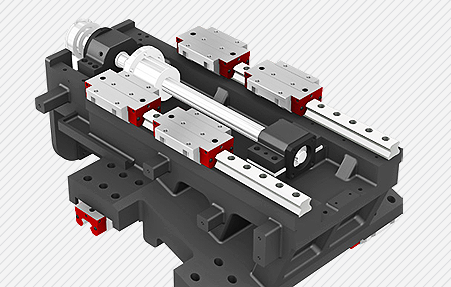 <Roller LM Guideway>
<Box Guideway>
Ball Screw
In order to eliminate thermal growth and to increase accuracy, all axes are driven by high precision double anchored ballscrews.
Rapid Traverse Rate (X/Z)

24

/

36

m/min

24

/

24

m/min
Travel (X/Z)

190

/

200

mm