1Optimal Structural Analysis
Structural analysis was applied to the design of the machine to increase the tool post body and reduce the machine's height so as to maintain the bed's dynamic rigidity even during heavy-duty cutting.
In addition, the HD2600/3100's bed slope is pitched at 30 degrees to ensure more stable machining.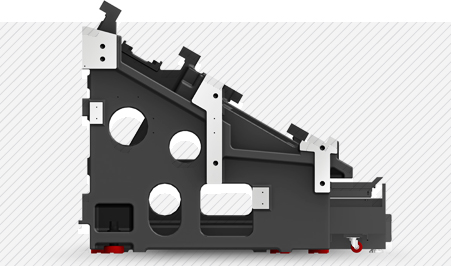 Increased Tool-Tip Rigidity
HD2600
Z-axis

17% UP

Y-axis

49% UP

HD3100
Y-axis

20% UP
Integrated Coolant Tank
The structure is designed with the coolant tank installed at the bed front for improved convenience. Chips can be removed from the right side of the machine
2Box Guideway on All Axes
With the mounting of box guideways on all axes, the machine offers excellent vibration absorption even against during heavy-duty cutting, enabling high-quality machining. In particular, the long Z-axis design ensures the machine delivers excellent performance in machining shafts and other long products.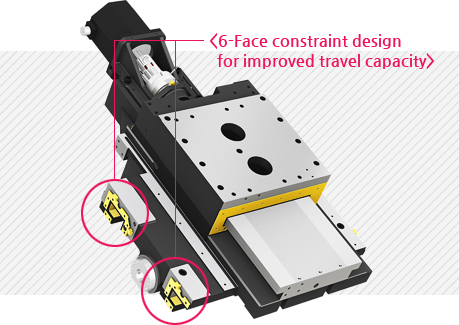 Closed-type GIB Structure
The guide attachment surface of X-axis guideway has been changed to a sealed GIB structure to minimize X-axis turcite damage caused by chips. As a result, the machining capacity has been greatly enhanced too.
Ball Screw
To prevent the expansion of ball screws due to higher temperatures during feeding, and to remove the feeding axis backlash, the both ends are fixed with 4-row precision angular thrust bearings and are preloaded. In addition, precision axis feeding is enabled with the adoption of a direct-coupled servo motor.

Rapid Traverse Rate (X/Z axis)

24

/

30

m/min (

945

/

1,181

ipm)
Travel (X/Z axis)
HD2600

265

/

680

mm (

10.4″

/

26.8″

)
HD3100

265

/

830

mm (

10.4″

/

32.7″

)
3High-Rigidity Turret for Heavy-duty Cutting
The design features reinforced turret rigidity to withstand heavy cutting and ensure excellent machining. In addition, the width of the turret disk has been increased to further boost rigidity.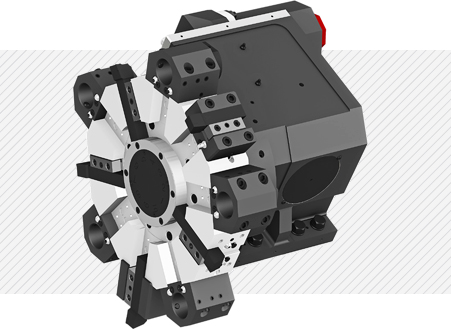 No. of Tools

10 [12]

EA
Tool Size (O.D/I.D)

□25

/

Ø50

mm (

□1″

/

Ø1.6″

)
Indexing Time (1-Step)
HD2600

0.17

sec
HD3100

0.22

sec
Disk Width Expand

<Static-Rigidity Increased : I.D 20%, O.D 3% UP>