XM2600/3100 Series6/7/9-axis Multi-tasking Machine
Multitasking Machine XM2600/3100 Series, designed by HYUNDAI WIA with years of expertise and the latest technology, is designed to maximize productivity by utilizing mill head and lower turret.
High-speed, high-productivity, high-precision multi-tasking machine
B-axis driving by DDM (Dircet Drive Motor)
B-axis indexing ▶ 0.0001˚ control
Shorten mill head → Enlarged working area
Enlarged Y-axis stroke → 250mm (9.8") → 300mm(11.8")
Built in spindle ▶ C1-axis 0.0001˚ control
Adopted nut cooling ballscrew on X1, Y, Z1 axis
Adopted FANUC 31i-B5 PLUS controller
Basic Structure
6/7/9-axis multi-tasking machine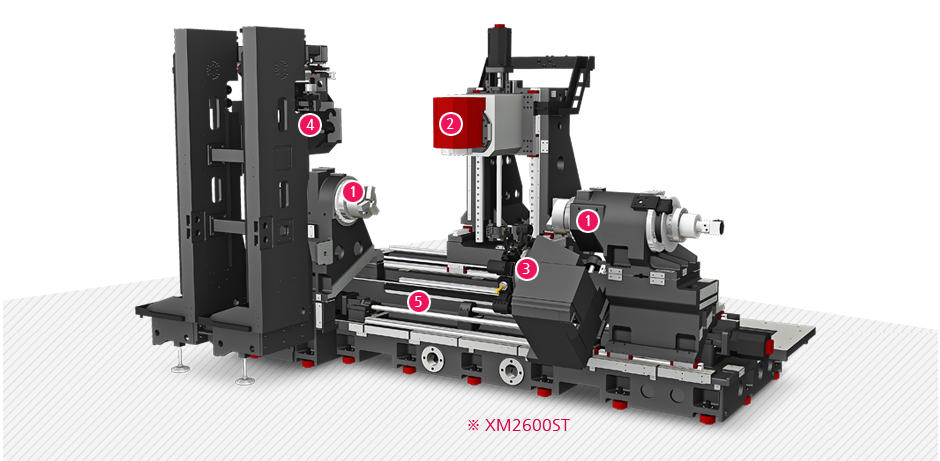 1Built-in Spindle (1st/2nd)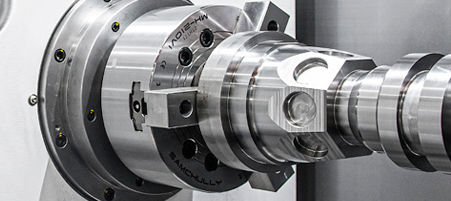 XM2600/3100 Series built-in spindle minimizes vibration to allow machining of the highest precision.
XM2600 : 10″ Chuck
Speed : 4,000 r/min
XM3100 : 12″ Chuck
Speed : 3,000 r/min
2Compact Mill Head
The B-axis control mill head is mounted with a high resolution encoder having a built-in motor and 0.0001° indexing ability to secure high positioning precision.
Driving Methode : Built-in
Speed : 12,000 r/min
3Lower Turret
(Std. Turning Turret / Opt. BMT65 Mill Turret)
The lower turret ensures high-speed machining of complicated shapes in precision only with one-time setting of workpiece machined with the mill head.
4ATC & Magazine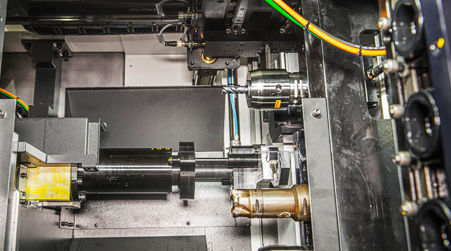 The installation of magazine on the front provides efficient tool change and tool setting. Magazine with chain driving method provides 40 tools as standard, and 80 tools as option.
Tool Shank Type : CAPTO C6
Tool Change Step : 4 Step
5High Precision & Rigidity Bed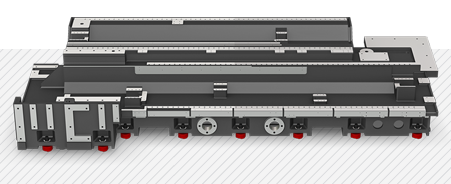 The new bed design has especially been interpreted and designed with the FEM method to minimize various factors such as thermal distortion and vibration, which could take place during machinine. Also to secure machining, XM2600ST is designed low bed structrue compared to previous model.