- Launching machine tools from models with increased cost efficiency to high value multi-tasking machines
- Mass improvement in the horizontal machining center lineup
- Targeting future-oriented and next generation part machining machines
Hyundai WIA will be revealing a number of new products for next-gen machining.
The company is planning to launch over 20 machine tools along with other turning centers and machining centers, and to accelerate the company's global market infiltration strategy by improving its multi-tasking machine and large size machine tool lineup.
As for turning centers, Hyundai WIA has entirely restructured its small and medium turning center lineup by launching the SE2200 Series. And the company has launched the SE2600 Series following the successful launch of the SE2200 Series that offer both high-speed and complex machining capabilities. The SE2600 Series features SE2600, SE2600M, SE2600Y, and SE2600SY, which are models equipped with a 10-inch spindle for machining short-length materials, along with SE2600L, SE2600LM, SE2600LY, and SE2600LSY for machining materials longer in length.
The SE2600 Series offers models that focus on improved productivity and cost efficiency through high-speed machining. The series was launched at a price range that is more competitive compared to other products within the same capacity level, but offered a higher travel speed for improved productivity through high-speed machining. Furthermore, all models were equipped with the roller bearing-type LM guides, which offer superior rigidity compared to previous models for improved rigidity of the travel axis. And the company has even launched a model equipped with sub-spindle and Y-axis, which previously did not exist in the high-speed 10" machine tools, and this offered a solution that can achieve both high added value and complex machining.
SE2600 Series is a high speed 10-inch turning center developed with the focus of enhancing productivity.
Hyundai WIA has also significantly expanded its multi-tasking machine lineup for next-gen high added value product machining. Back in May, the company has launched the XM Series, which offers multi-tasking machines that combine the structure of both turning centers and machining centers. The XM Series features XM2600, XM2600S, and XM2600ST, which feature a 10-inch spindle, and XM3100, XM3100S, and XM3100ST, which feature a 12-inch spindle. With the XM Series, you can successfully machine any complex shape products with just a single machine featuring a mill head capable of 240-degree rotation. Recently, shapes of parts in high-tech industries including space/aviation, defense, and electric car industries have become more complex and precise, and this lineup considered to be the ideal machine tool for machining parts used in such industries.
Also, Hyundai WIA is planning to launch multi-axis turning centers LM2200TTSYY and LM2200TTSYYC in the second-half of 2023. LM2200TTSYY and LM2200TTSYYC are multi-axis turning centers that feature an 8-inch and 10-inch spindles respectively, and they come equipped with two spindles, turrets, and Y-axis each, which make them ideal for machining workpieces with complex shape. And these models feature the newly added Y-axis in the bottom part of the product but were launched at a more competitive price, which is a part of the plan by Hyundai WIA for these models to emerge as the new popular choices in the emerging market of multi-axis turning centers.
10-inch / 12-inch multi-tasking machine XM Series can perfectly machine in high-quality any complex form of parts within one ting.
For the machining centers, Hyundai WIA has focused on improving the vertical machining center lineup until last year. And high-speed KF-II, KF-B II featuring a box guide, KF-D featuring a dual table, and the 5-axis machining center KF-5A are the primary examples of such efforts by Hyundai WIA. Encouraged by the successful market launch of the vertical machining centers, the company is planning to release various new products models in the horizontal machining center market starting this year. Last year, HS4000 II, HS5000 II, HS5000/50 II, HS6300 II, and HS8000 II were launched as follow-up products to the HS Series, which offers the majority of the high-speed horizontal machining centers developed by Hyundai WIA. This year, the successor to the KH Series from Hyundai WIA, which includes the majority of the heavy duty cutting horizontal machining centers from Hyundai WIA, will be released in the second half of this year.
The KH Series lineup features KH6300 and KH8000. This model is capable of absorbing vibration even for heavy duty cutting with the application of box guides. The gear-driven spindle boasts best-in-class cutting performance with the maximum output of 45kW at 6,000rpm and maximum torque of 2,193N.m. Also, the models in the KH Series offer significantly increased size for the workpiece that can be loaded onto the equipment, improved travel speed, reduced tool change time, and significantly reduced workpiece change time through the application of the rotary turning APC, which in turn offer massively improved heavy cutting and high-speed capabilities compared to the previous models.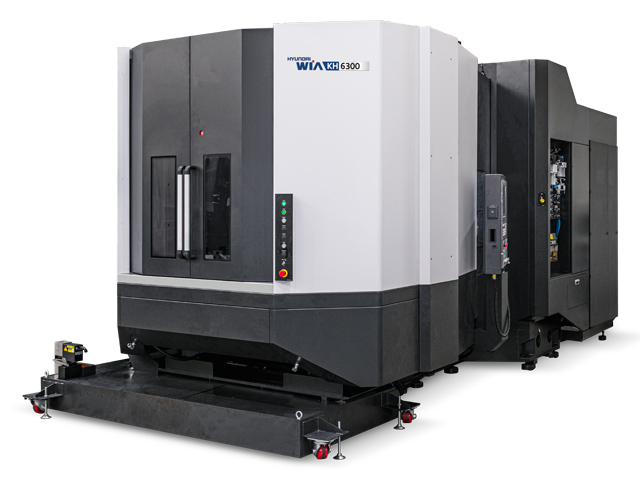 Hyundai WIA's best seller Horizontal machining center KH63G is reborn as KH6300 with higher power, speed and user convenience compared to the prior model.
Hyundai WIA is also launching the supersized high-speed vertical machining center HS10000, which comes with the pallet size of 1,000mm. Other companies in Korea also offer supersized horizontal machining centers with pallet size of 1,000mm, but these products only focus on heaving machining and had some shortcomings in terms of productivity. Subsequently, Hyundai WIA is planning to pioneer a new market by launching a high-speed horizontal machining center with the pallet size of 1,000mm, which is a product that is currently only offered by name brands overseas. HS10000 is a supersized high-speed machining center that boasts a rapid traverse rate of 50m/min while also being capable of outstanding cutting performance due to its high-speed/high-output built-in structure capable of going up to 10,000rpm and 45kW. This model is expected to be an optimal model for machining large parts and new materials in space and aviation industries.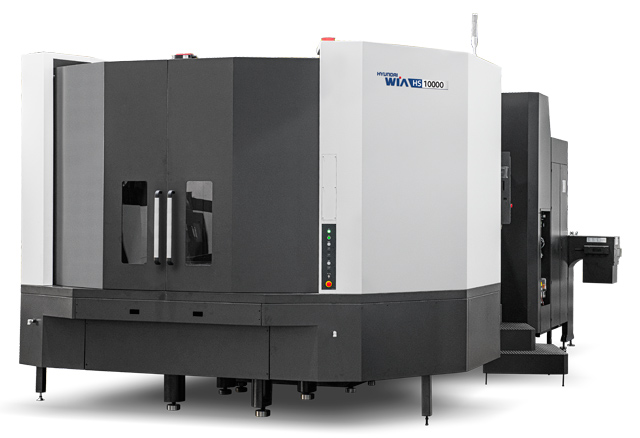 The new HS10000 is a 1,000mm pallet super large size machine concentrating on high speed machining.
Hyundai WIA is also currently promoting the development of various machine tools specializing in future advanced material machining such as the vertical 5-axis machining center and the next-gen horizontal turning center. Hyundai WIA spokesperson stated, "There are limitations to advanced material machining with the traditional machine structure" and added, "We will not stay idle and continue to take charge in developing products that will lead the market."