HD-SY Series Y-axis Turning Center
Hyundai Wia, one of the largest machine tool makers in Korea, used its accumulated know-how and latest technology to develop the HD-Y Series, which delivers high-performance, high heavy cutting capability, and maximum productivity concurrently.

Y-axis CNC Turning Center with Highly Reliable Box Guideways
Box guideways for enhancement of cutting capability
Minimized thermal displacement through stabilized machine component
Complex machining is possible with BMT55P turret transferred by wedge type Y-axis
Basic Features
High Precision & Heavy Duty Cutting Y-axis CNC Turning Center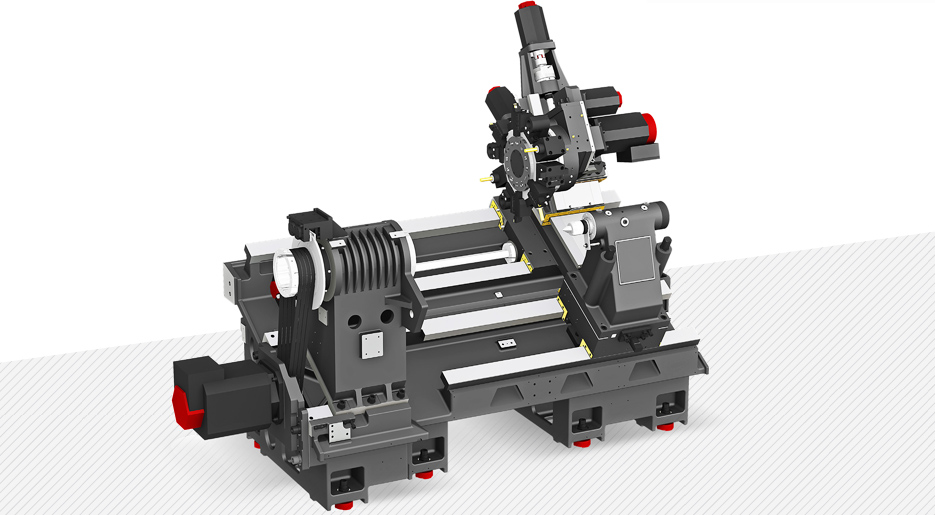 1Optimal Structural Analysis
Structural analysis was applied to the design of the machine to increase the tool post body and reduce the machine's height so as to maintain the bed's dynamic rigidity even during heavy-duty cutting.
In addition, the HD-Y Series bed slope is pitched at 30 degrees to ensure more stable machining.
Integrated Coolant Tank
The structure is designed with the coolant tank installed at the bed front for improved convenience. Chips can be removed from the right side of the machine.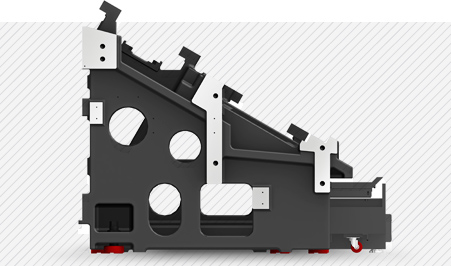 2Box Guideway on All Axes
With the mounting of box guideways on all axes, the machine offers excellent vibration absorption even against during heavy-duty cutting, enabling high-quality machining.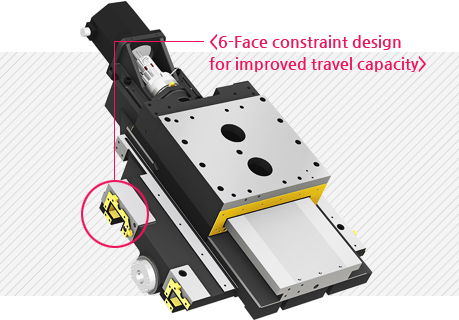 Comparing Damping Values

Rapid Traverse Rate (X/Y/Z axis)

24

/

10

/

30

mm (

944

/

394

/

1,181

)
Travel (X/Y/Z axis)

215

/

110

/

680

m/min (

8.5″

/

4.3″

/

26.8″

)
3Wedge Type Y-axis Structure
The HD-Y Series is designed with a wedge type Y-axis that is transferred by the simultaneous operation of the Ys-axis and the X-axis. In addtion, excellent rigidity makes possible to perform superb quality when machining a heavy-duty cutting.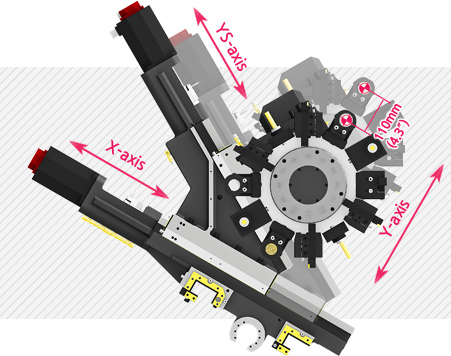 Mill Turret (BMT55P Turret)
The large BMT55P turret enables the HD-Y Series to perform high accuracy milling operations in a single set-up.
The BMT turret is driven by a high torque servo motor with a 0.2 second indexing time(1 Step) in either direction.
Max. Speed

6,000

r/min
Max. Output

5.5

kW(

7.4

HP)
Max. Torque

53

N·m(

39

lbf·ft)
4HD-SY Series Line-Up
● : Standard ○ : Option