INTERMOLD 2017, End with Great Success
2017.03.17 | Hyundai Wia Machine Tools
HYUNDAI WIA unveiled its 10 cutting-edge mold machining tools along with FA Studio and Smart Factory Solution through VR.
In particular, it was the NC controller 'HYUNDAI-iTROL+ (hereinafter referred to as the "iTROL+") which drew the largest attention from visitors. iTROL+ which was first unveiled at INTERMOLD KOREA 2017 is a machine tool upgraded from iTROL which was released in 2015 in terms of user convenience and network functions.
Then, what exactly has changed from the former model. First, iTROL+ offers intuitive operation with a 19" multi-touch touchscreen. In addition, it allows users to be able to get the frequently used information easily through 'Smart Speed Dials' next to the NC screen without turning the page. HYUNDAI WIA especially focused on the 'simplification of work flow' while designing the control panel. With these efforts, the company was named 'PIP UP BEST 100' at Pip-up Design Award 2016 organized by the Korea Association of Industrial Designers.
Furthermore, iTROL+ provides an IoT solution which allows users to check the operation of other machine tools in the factory through a controller. With this machine tool, therefore, they are able to promptly respond to a particular problem when it occurs even though they are not at work. The remote monitoring and control solution helps users take care of a mechanical problem on time without waiting for mechanic.
It is the 5-axis machining center 'XF6300' which has drawn the greatest attention recently among the diverse mold machining tools. As all-in-one end and column structure developed by HYUNDAI WIA R&D Center Europe, it focused on 'high rigidity'. Compared to other machine tools, in addition, it is short in terms of door-table distance with nearly 685mm, allowing users to set work pieces more easily.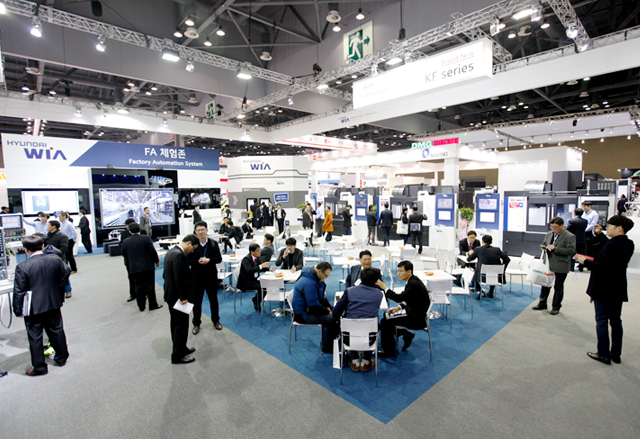 HYUNDAI WIA's cutting-edge mold machining tools at the same place
Smart Factory Solution Zone
CNC controller HYUDAI iTROL+ first unveiled
A new 'Iron Man' with XF6300
Factory Automation System