The Rallies are starting again – And we are ready to win
2020.07.20 | Hyundai Wia Machine Tools
The Rallies are starting again – And we are ready to win
(Video recording of Hyundai Motorsport WRC Rally Car model on XF6300)
WRC Hyundai Motorsport i20 model made on the XF6300.
The motorsport season is finally restarting again with the Rally in Estonia in September. As sponsor of Hyundai Motorsport we celebrate the restart in our own unique way, suitable for a machine tool manufacturer – we machined a WRC Hyundai i20 model on the 5-axis vertical machine center XF6300 with WRC design and with the signature of the Hyundai Team racer Dani Sordo, who visited our last Open House in February earlier this year.
XF6300 with the signature of Dani Sordo (WRC driver for Hyundai Motorsport). Mr. Dreher (left) and Mr. Mut (right) recording the cutting with action cams inside the machine.
Having a lot of rally fans out there, we decided to record a video of the machining and not keep it to ourselves because it is the perfect combination for rally and machine enthusiasts. And as sponsor we are proud that Hyundai WIA machine tools helped build the car which won the manufacturer's championship in 2019 and it shows what our machines are capable of. Body as well as engine parts are built on Hyundai WIA machines and are an essential part for the success of Hyundai Motorsport.
WRC Hyundai Motorsport i20 show car (2019 model) in the lobby of TECH CUBE.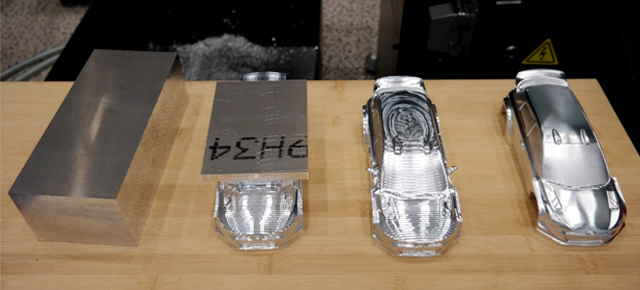 From aluminum bloc to finished model.
The model does not look only great and shiny with its smooth aluminum surface but it is also a great piece of machining and with the 5-axis model XF6300 it is possible to do it with only two clamping operations. In the first operation chips are flying while the rough cutting is done, on the second operation the roof and fine tuning is made, which of course takes some time. To manufacture one car, it takes roughly 10 hours.

1. Operation rough cutting (machining time 1,5-2h), 2. Operation rest removal in roof area and finishing (machining time 6-8h).
It is our first video production at the European branch, therefore we got some help. First, our dealer for South Germany Drehertec helped filming for two days and as surprise Hyundai Motorsport sent one of their film crew to record awesome material of the cutting. It has been some long days but it was fun as well and we hope you will enjoy the video later on. So stay tuned for the result coming soon!
Mr. Wenzlow, Regional Sales Manager at Hyundai WIA, introducing the XF6300 while having fun struggling with the script.
HYUNDAI WIA - EXPERIENCE THE NEW TECHNOLOGY