Defying Covid-19 together with the customers - Let the business go on #1
2020.06.04 | Hyundai Wia Machine Tools
Customer Herrmann entering Hyundai WIA's showroom at the TECH CUBE.
As we are all struggling with the pandemic business must go on. Thankfully the situation in Germany got better and so we were able to welcome out first guests at the TECH CUBE after the lockdown, the company Herrmann from the Black Forest in Germany. Of course only with the mandatory precaution measures. We provided disinfectant and masks as well as keeping the correct distance wherever possible.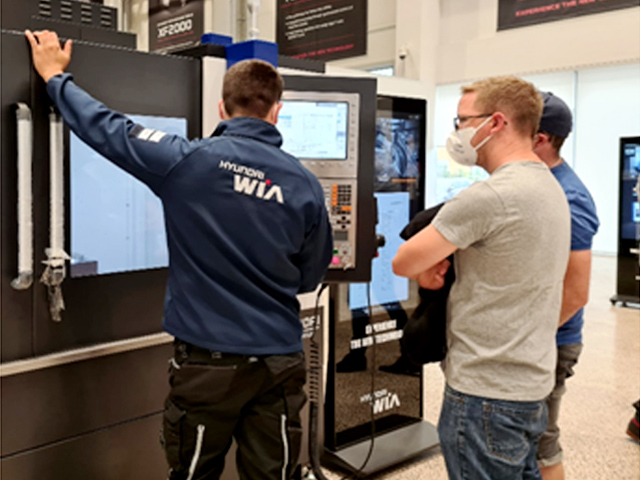 Hyundai WIA application engineer presenting the KF5600.
Together with our distributor for Southern Germany Nagel we presented to them our Vertical Machine Center KF5600 in our showroom and prepared a demonstration of the capabilities of the machine tool. Our competent applications team explained the machine to Herrmann and they had and they could inspect the machine as much as they wanted.
Customer Herrmann looking at every screw of the KF5600 and discussing it.
TWith the times being difficult we still do our best to satisfy our customers and their needs.
HYUNDAI WIA - EXPERIENCE THE NEW TECHNOLOGY