Success Story Italy – RB Lavorazioni Meccaniche
2020.05.25 | Hyundai Wia Machine Tools
RB Lavorazioni Mecchanice is a small workshop with 15 employees founded by Mr. Brambilla and Mr. Rossito from Energy Valve S.r.l. and currently using 11 Hyundai WIA machine tools and 9 different models. Due to our Italian dealer Vimacchine and Hyundai WIA machine tools this workshop was able to grow very fast and is now able to handle all kind of requests from customers in the Lombardy [Italian region].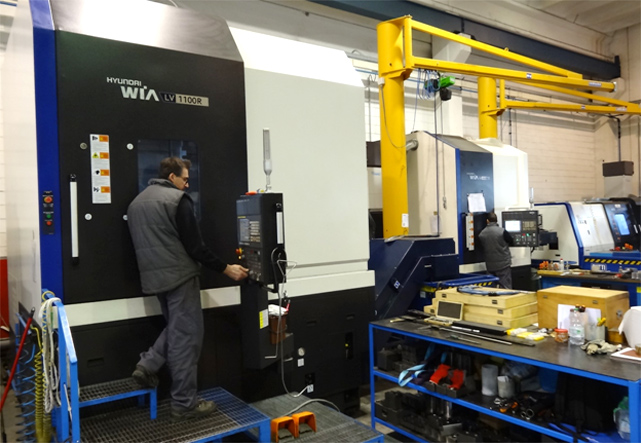 Installed Hyundai WIA machines at the production site of RB Lavorazioni Meccaniche in Calolziocorte.
It all started in 2016 when Mr. Brambilla and Mr. Rossito from Energy Valve - a manufacturer of industrial valves – wanted to found their own workshop to manage work peaks, emergencies or small batches for Energy Valves. It is when they met with an old friend of them, Mr. Manzoni, Area Manager for Vimacchine S.r.l. As professional he understood the needs of the founders and offered diverse models from the Hyundai WIA range. RB Lavorazioni Meccaniche decided for one L400LMC, one F650/50 and one L300C. As the L400LMC was available right away and the other machines delivered before the production site was ready, Vimacchine and Hyundai WIA could fully satisfy the customer's needs.
A "full sprint" start
Hyundai WIA machine tools are working very precise, fast and reliable and so the business of Energy Valves grew and other commissions from new customers flew in. Thus, the workshop needed more machines. As the relationship with Vimacchine has been very good and the Hyundai WIA machine tools have been doing great work the decision was easily made for additional Hyundai WIA machine tools.
New phase of expansion
As more orders came in more machines and more space was needed and the company moved to a new production site. In this phase of expansion Vimacchine and Hyundai WIA supported RB Lavorazioni Meccaniche as well with fast delivery of high quality machine tools. Mr. Brambilla and Mr. Rossito were invited 2018 by Vimacchine to the MECSPE in Parma/Italy where they could experience the (at that time) new HD2200MC.
Mutual trust leads to success
The founders of the workshop stressing out that they have built over time a relationship full of trust and friendship directly with Vimacchine and indirectly with Hyundai WIA. The fast responses Vimacchine and great machine tools from Hyundai WIA helped a small workshop to grow fast and establish themselves in the Italian market.
Summary of an article provided by Vimacchine S.r.l., published in the magazine "MACCHINE UTENSILI" from March 2020. Full article available in the download links below in Italian (original), English and German.