KF6700B Heavy Duty Cutting Vertical Machining Center
Hyundai Wia, one of the largest machine tool makers in Korea, has used its accumulated know-how and latest technology to develop the KF6700B Vertical Machining Center, which offers high-precision heavy cutting capability and maximum productivity, making it a next-generation machine tool.

Box Guideway Machining Center Specialized in Heavy-duty Cutting
Box guide design for heavy-duty cutting
Stable machining – Enlarged box guideway in width and span
Fundamental rigidity of the structure has secured through the high-rigidity design between column and bed
Enlarged table size to provide various workpiece options
Various spindle options and hydraulic tool locking system for a stable machining
Fast tool change time (C-C: 3.5sec)
Large size of coolant tank (590ℓ)
Basic Features
Excellent Heavy Duty Cutting Capability & Productivity Vertical Machining Center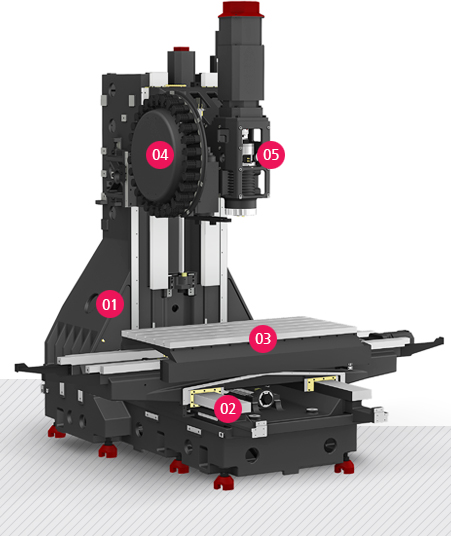 1Optimal Structural Analysis
The KF6700B is fitted with ribs at the bed front to boost structural rigidity, giving it increased static rigidity compared to base machine models and the ability to perform solid heavy-duty cutting.
High-Rigidity Design for Column & Bed
The stable design of column assembly surface on bed top enables securing the fundamental rigidity of the structure.
(Full scrapping of assembly area : 10 fixing bolts)
Optimal rigidity maintained by reinforced rib structure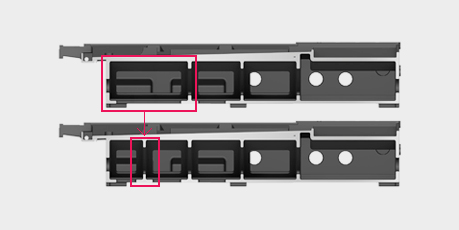 2Box Guideway on All Axes
The KF6700B is equipped with box guideways to enable distributing its feeding force evenly to each slideway. It boasts excellent rigidity, a stable feed structure, and an increased box guide slideway, thus providing an excellent heavy-duty cutting performance.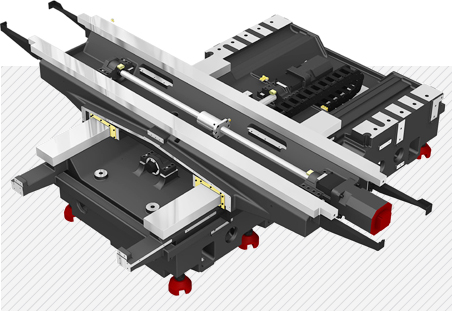 Increased Box Guide Slideway
Travel (X/Y/Z axis)

1,300

/

670

/

635

mm (

51.2″

/

26.4″

/

25″

)
Rapid Traverse Rate (X/Y/Z axis)

30

/

30

/

24

m/min (

1,181

/

1,181

/

945

)
Double-Anchor Type Ball Screws
Precisely preloaded ball screws minimize heat build-up and further boost rigidity based on the double-anchor support method.
In addition, each axis is connected with ball screws and high-reliability digital servo motors using a metal-plate coupling to reduce coupling damage and backlash.

'3-row bearings + oil lubrication method' has boosted the rigidity 147% than before.
3Enhanced Rigidity Based on Table Structural Analysis
The KF6700B boasts the thickest table design compared other models in its class in Korea and a reinforced rib structure, thereby minimizing able displacement even during high-load workpiece machining..
Table Size (L×W)

1,500

/

670

mm (

59″

/

26.4″

)
Max. Load Capacity

1,300

kg (

2,866

lb)
4Magazine & ATC
The machine comes with a magazine capable of carrying 30 tools as a standard, and 40 tools as an option (BT50: 24 tools as a standard; 30 tools as an option), offering a wider choice of machining tools. It also features a randomized tool selection system to shorten the tool change time.
Servo ATC
The servo motor-driven Twin Arm ATC offers greater ATC position control compared to previous models. The tool change speed has been improved, significantly shortening non-cutting time.
40 Tool Magazine (BBT40) : Servo Motor
30 Tool Magazine (BBT40) : Geared Motor

(Opt. Servo Motor)