Hyundai WIA family supports each other – Let the business go on #2
2020.06.08 | Hyundai Wia Machine Tools
Drehertec shooting videos for their Youtube channel at the showroom in the TECH CUBE.
Being still in the Covid-19 crisis normal business is hard to conduct, so now is the perfect time for doing all the things you usually do not have time for. Speaking of the devil Hyundai WIA Europe as well as Drehertec, our dealer for the south part of Germany, using the time to strengthen the marketing efforts and show the market that we are still there and support customers in each possible way. Therefore, Drehertec used the opportunity to come by to the TECH CUBE and shoot machine promotion videos for their Youtube channel.
Hyundai WIA's Managing Director Ickjun Yang providing the youngest film crew member with a Hyundai WIA soft shell jacket and polo shirt in WRC design as gift.
Drehertec is one of the many family businesses in Germany proved by Martin Dreher by hiring his two sons as film crew for this video shooting. To welcome the youngest visitor to the Hyundai WIA family our Managing Director Ickjun Yang gave Magnus Dreher a soft shell jacket and a polo shirt in WRC rally design as a present. Of course, we also supported the filming in each way possible. Our service engineers and also the in house R&D team helped to prepare the machines and run demo programs on the machines for awesome video material.
Hyundai WIA employee preparing the demo run for the video shooting inside the XF2000.
With everything so well prepared the video shooting could start and Drehertec used the chance to take three videos in one day. One for the Hyundai WIA Turning Center HD2200Y representing the HD-Y series, one of the Vertical Machine Center KF5600 and one of the in Europe developed 5-Axis Machine Center XF2000 with the WRC design from our partners of Hyundai Motorsport. With already seven machine promotion videos shoot before in Drehertec's showroom in Denkingen (Germany), the recoding went smoothly and we were happy to support our dealer with machines he does not have in his own showroom to promote a wide range of the Hyundai WIA machine tools.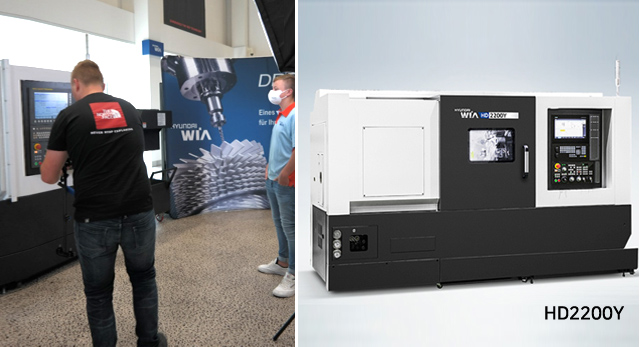 Drehertec getting ready for the recording of the XF2000 promotion video and outside recordings of the HD2200Y.
On this point we want to emphasize the importance of helping each other and sharing the resources in the best way possible to serve new and existing customers of Hyundai WIA in the best way. Manufacturer and dealer need a well working relationship to achieve the ultimate goal of customer satisfaction. Thus, we were very happy to welcome our dealer Drehertec for the video shooting.
HYUNDAI WIA - EXPERIENCE THE NEW TECHNOLOGY
Stay tuned and check out our SNS channels :