Hyundai WIA Smart System
Hyundai WIA provides part program generation software, machine monitoring system, and file transfer software to improve efficiency and ease of operation. Hyundai WIA always considers from the customer's point of view.
Part Program Generation Software
(HW-DPRO, Hyundai WIA - Dialogue Program)
HW-DPRO Part program generation software allows user to create a program for complex machining shapes through a simple interactive operation.
Main function
User interface similar to machine tool control
Tool path generation utilizing practical machining "know-how" data
Automatic cutting condition recommendation and user cutting condition database support
Tool path and collision detection estimated machining time and 3D simulation
Supports part programs generated for FANUC / SIEMENS Controls
Supports turning center and machining center(*individual product)
---
Real-time Machine Monitoring System
(HW-MMS, Hyundai WIA – Machine Monitoring System)
HW-MMS Real-time machine monitoring system allows user to check and manage machine status using a PC, Mobile device, or table.
Main functions
Real time machine status monitoring
Statistics on machine's operation and status history
Management of machine
---
File Management Software
(HW-eDNC, Hyundai WIA – Ethernet Direct Numerical Control)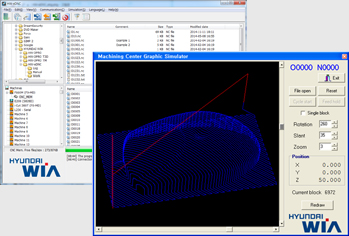 HW-eDNC software allows user to manage part programs and NC data through a connection between PC and CNC (Ethernet, RS-232C).
Main functions
Part program management through Ethernet or Serial(RS-232C) communication
Display and management of part program in CNC memory
Supports scheduling of DNC machining
Tool path simulation for machining centers