Hyundai Wia plans to conquer Europe with the Tech Cube
2019.03.04 | Hyundai Wia Machine Toos
Korean machine tool manufacturer Hyundai Wia has opened its new Technology Center Tech Cube in Rüsselsheim.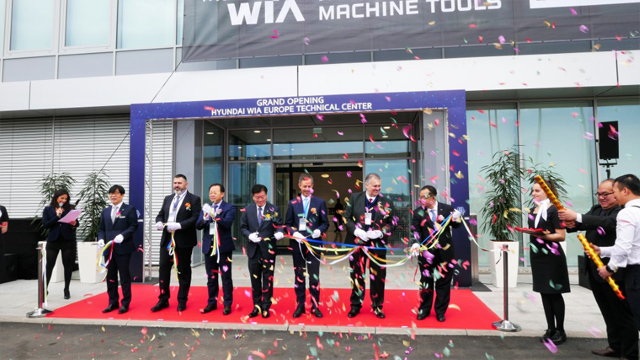 The machine manufacturer from Korea has big plans. Hyundai Wia intends to increase sales in Europe to 70 million euros this year. "We want to become a leading manufacturer of machine tools in Europe," said Kyung Bae Kim, CEO of Hyundai Wia Corp. at the opening of Tech Cube.
Hyundai Wia sets a clear signal for the European market in Rüsselsheim. "Our European customers need the best service, training and technical support. We can offer everything here, and it will strengthen Europe's confidence in our machines, "Kim continues.
The Tech Cube is a 5500 square meter building that combines sales, service, parts and R & D under one roof. In the warehouse of 1000 m² 41,000 items are in stock. Ordered today, these items may be tomorrow throughout Europe. In the sales-supporting showroom, nine running machines were in operation at the opening. Soon, the number of machines presented will increase significantly. The Tech Cube provides ample room for demos, (software) training, and customer testing that is available to dealers at all times. In the future there will be a program of various events, including industry days for specialized industries such as automotive, aerospace and tool and mold making.
Part of Tech Cube is a permanent demonstration room where a large number of machines is demonstrated live.
During the opening Hyundai Wia demonstrated the circle segment milling on the XF6300 together with CAM developer Open Minds and Emuge Franken. With this strategy the surface roughness improves or the processing time is shortened.
A team of 15 European engineers is currently working in Tech Cube on the development of new CNC machines such as the 5-axis machining center XF6300.
The link to the parent company, car manufacturer Hyundai Kia, is clearly visible in the entrance hall of Tech Cube.